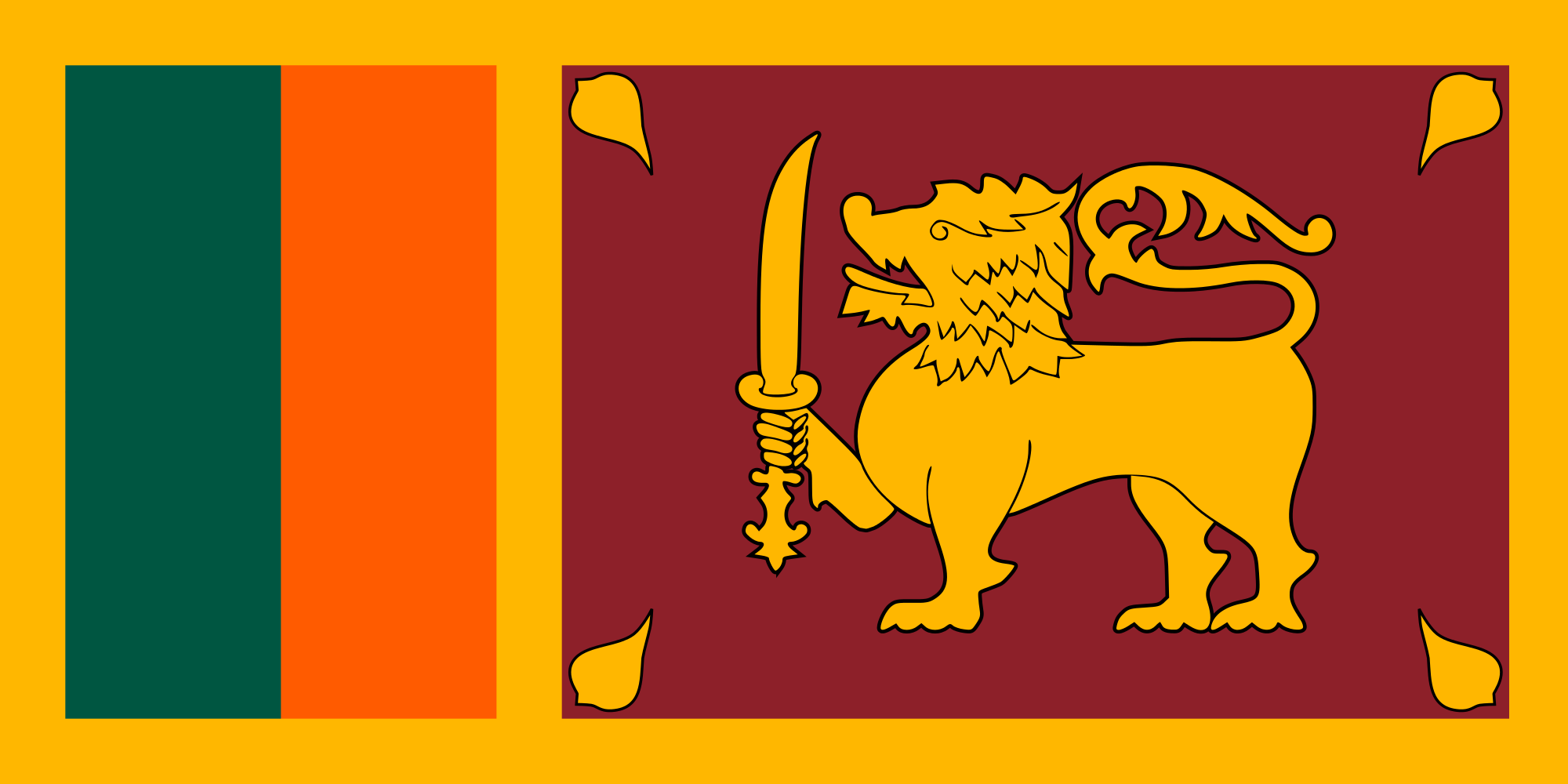 Internet services in Democratic socialist Republic of Sri Lanka
Sri Lanka is a beautiful island that is separated from the continent of India, even though there is a good communicational bonding between them at all. This Sri Lanka is covered by the three important and huge oceans such as the Indian Ocean, Bay of Bengal, Arabian Sea. This island has a rich cultural heritage and it is considered as the major trade hub for so many countries. Telecommunications with other countries causes a great impact all over the countries. Nearly 10.10 million internet users in Sri Lanks as per the record of 2021.
The well-known data connections providers of Sri Lanka
The most common and famous internet service providers of this beautiful island are:
Dialog Axiata
Mobitel
Airtel
Dialog Axiata's famous data packages:
In this Dialog Axiata company, the offers are only based on time (hours) only not by the days and months but there is a time (days) for validities. The offers are:
The first offer is 30 minutes which offers unlimited data by just Rs.20 and the validity is 1 day.
The next offer is 2 hours that too offers unlimited internet just by Rs.50 and 3 days is validity for this offer.
The third offer is 5 hours which gives 500 MB by Rs.100 with the validity of 5 days.
The next offer is by Rs.200 people can get 1 GB of data for 12 hours also with 5 days validity for the offer.
The last offer is for Rs.400 people to get 2 GB of internet for 24 hours only but validate for 7 days.
Mobitel company's internet packages:
In this Mobitel Company, people can acquire the internet for hours, days, weeks, and also months. The prices of offers are starting from single-digit to double, triple digits, and the volumes of data also for both day and night in every offer. The offers are:
Package of Hours: 25 MB of data will be available by Rs.5 with the 24 hours validity for the offer.
Days Packages: For 80 MB data for the day and another 80 MB of data for the night will be accessible by Rs.29 and 3 days validity for an offer.
Weekly packages: 7 days validity for both 200 MB of the internet on day and night by Rs.49 only. And another offer is 21 days are validity to 400 MB data by Rs.99 for night time and day-time.
Packages for Month (30 days):
800 MB data for day and 1.2 GB data for a night with 30 days validity by Rs.199 only.
299 for 1.2 GB net for day and 1.8 GB for a night with a month of validity.
2 GB internet for a day and 2.5 GB for a night with thirty days of validity by Rs.399.
699 for 4 GB of data for both day time and also for night time 8 GB.
Thirty days validity for both 6 GB of data for day and night 12 GB by Rs.999.
The last offer is Rs.1999 for 14 GB internet for both day and night for 30 days.
Airtel Data Packages:
In this Airtel Company data services, people can get 330 MB to 12 GB of the internet with night data too. Offers are:
30 MB with 440 MB for night data is for Rs.59 with 5 days of validity.
1 GB data for a night and 660 MB for general is for Rs.149 with 14 days of validity.
With 2 weeks of validity by Rs.179 for 800 MB of the internet for general.
479 for 5 GB general data for one-month validity.
The last one is Rs.999 for 12GB internet with a validity of thirty days.
Dialog Axiata Data Packages
Time-based Packages:
Price
Time
Validity
Data
Code
Rs. 20
30 mins
1 day
unlimited
KBB20
Rs. 50
2 hours
3 days
unlimited
KBB50
Rs. 100
5 hours
5 days
500 MB
KBB100
Rs. 200
12 hours
5 days
1 GB
KBB200
Rs. 400
24 hours
7 days
2 GB
KBB400
Mobitel Data Packages
| Price | Validity | Data Volume | Overuse | Activation |
| --- | --- | --- | --- | --- |
| Rs. 5 | 24 hours | 25 MB | Rs. 0.50 / MB | D5 |
| Rs. 29 | 3 days | 80 MB day, 80 MB night | Rs. 0.01 / 10 KB | D29 |
| Rs. 49 | 7 days | 200 MB day, 200 MB night | Rs. 0.01 / 10 KB | D49 |
| Rs. 99 | 21 days | 400 MB day, 400 MB night | Rs. 0.01 / 10 KB | D99 |
| Rs. 199 | 30 days | 800 MB day, 1.2 GB night | Rs. 0.20 / MB | D199 |
| Rs. 299 | 30 days | 1.2 GB day, 1.8 GB night | Rs. 0.20 / MB | D299 |
| Rs. 399 | 30 days | 2 GB day, 2.5 GB night | Rs. 0.20 / MB | D399 |
| Rs. 699 | 30 days | 4 GB day, 4 GB night | Rs. 0.20 / MB | D699 |
| Rs. 999 | 30 days | 6 GB day, 6 GB night | Rs. 0.20 / MB | D999 |
| Rs. 1999 | 30 days | 14 GB day, 14 GB night | Rs. 0.20 / MB | D1990 |
Etisalat (to be merged with Hutch) Data Packages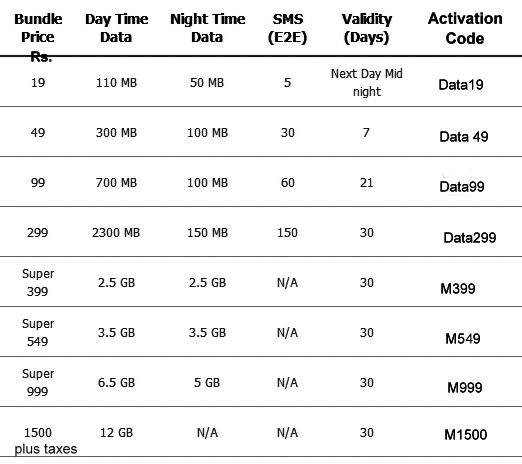 Hutch (merging with Etisalat) Data Packages
Always Internet on: 15 cts per MB daytime (midnight – 6pm), 30 cts per MB nighttime (6pm – midnight). Activation: *131*1# – default rate
airtel Data Packages
| Price | Data Volume | Night Data | Validity | Activation |
| --- | --- | --- | --- | --- |
| Rs. 59 | 330 MB | 440 MB | 5 days | D59 |
| Rs. 149 | 660 MB | 1 GB | 14 days | D149 |
| Rs. 179 | 800 MB | | 14 days | *179# |
| Rs. 479 | 5 GB | | 30 days | |
| Rs. 999 | 12 GB | | 30 days | |